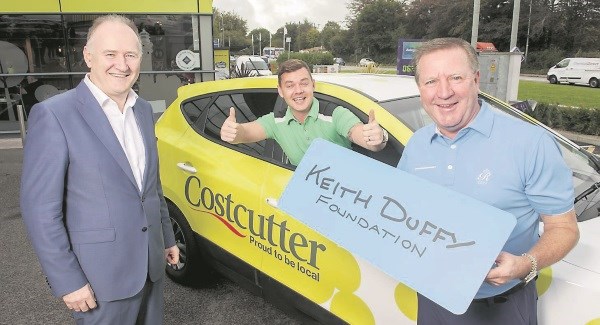 Ronnie Whelan pictured with Jim Barry, Barry Group managing director, left, and Danny O'Carroll who plays Buster in Mrs Brown's Boys, supporting AMD Week.
Now in its 10th year, Age-Related Macular Degeneration (AMD) Awareness Week is a national campaign to raise awareness of an eye condition that is the leading cause of sight loss for those aged over 50 in Ireland. This annual event is supported by the Association of Optometrists Ireland, Fighting Blindness, the Irish College of Ophthalmologists, the National Council for the Blind, together with Novartis Ireland.
The aim of the campaign is to improve knowledge and understanding of what Age- Related Macular Degeneration is, so it can be diagnosed as early as possible and treated appropriately, to help preserve healthy eyesight. By running an awareness campaign, with free AMD testing across the country, we hope to generate a conversation that reaches both over 50s and their friends and family. By generating more conversation about AMD, we hope to highlight the importance of regular eye testing, as well as the benefits of early diagnosis and treatment.
The See the Whole Picture campaign aims to showcase the reality and impact living with AMD has on a person's vision and their life, and encourages the public to take an AMD test during the awareness week to ensure that they see the whole picture for years to come.  For more information visit www.AMD.ie
Picture: Daragh Mc Sweeney/Provision / www.Irish Examiner.com